Date Published: 25/01/2021
ARCHIVED

- Non-essential shops closed after 6pm and at weekends in eight municipalities of Murcia region

This additional measure is being imposed in eight municipalities which have maintained a rate over 2,000 cases per 100,000 of population for two weeks
The Covid Monitoring Committee met on Monday to discuss the measures currently imposed to try and contain the spread of coronavirus in light of the worsening situation in the health service due to the high number of critically ill patients requiring hospital treatment in the region.
On Saturday an emergency session of the committee agreed to totally restructure the resources and staff available within the health service, cancelling all non-urgent surgical interventions and daily activities within the hospital service, re-directing staff to covid wards and creating more beds for covid patients, so if you do have an imminent appointment, check with the hospital before turning up as it may have been cancelled.
This latest measure followed the Monday session and states that from 6pm in the evening between Monday and Friday, all non-essential businesses must close and are also not allowed to open up at all at the weekend.
The exclusions given are for supermarkets, pharmacies, petrol stations and those offering a take-away food service.
The eight municipalities affected are: Yecla, Moratalla, Albudeite, Mula, Fortuna, Caravaca, Ricote and Jumilla.
All of these have maintained extremely high accumulated incidence rates for the last fortnight, with over 2,000 cases per 100,000 of population, four times the level considered to be "extreme risk" and at some points during the last week have exceeded these figures by some considerable margin. Moratalla, for example, has topped the 4,000 mark during the last week, although has now dropped back to under that point.
As of today, Yecla is currently leading the list fo worst affected municipalities with a rate of 4,225, followed by Moratalla, with 3,788, Albudeite 3,568, Mula 3,192, Fortuna at 2,867, Caravaca at 2,845, Campos del Río 2662, Ricote at 2,215 and Jumilla at 2,097.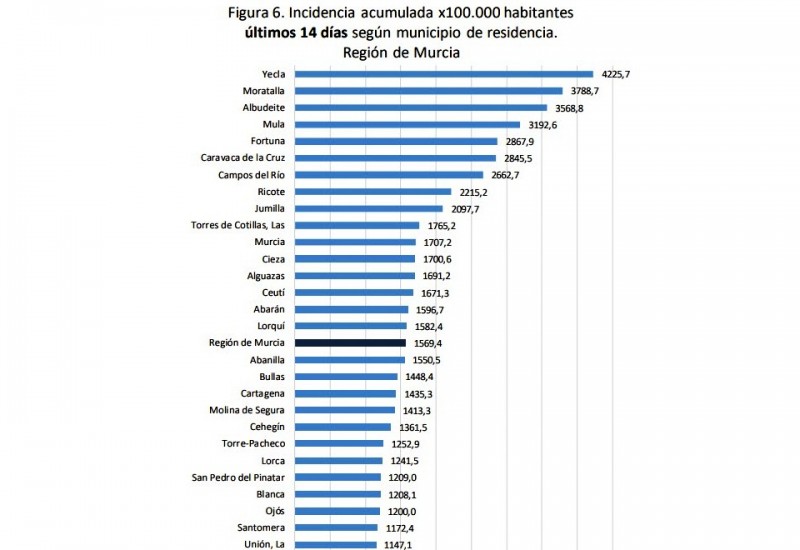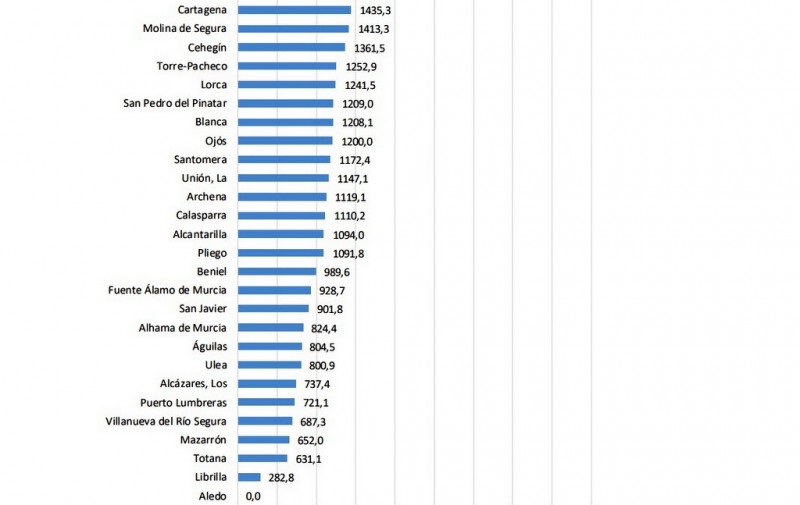 The perimeter confinement of these eight municipalities (and all those which remain above the 500 cases mark, which is all of the region except Aledo and Librilla) continues, as does the ban on any type of social gathering and the closure of the hostelry sector (other than for take-aways and deliveries).
The committee has also limited the number of people allowed to gather in public to two people regionwide. The only exception is for a family group that inhabit the same household, who are permitted to go out in public together. This applies to the whole region.
It will be interesting to see if any effort is made to actually enforce this; on Sunday groups of cyclists and motorcyclists were blatantly ignoring the maximum group size rules on the Cartagena coastline, enjoying the stunning, warm conditions!

article_detail
Thank you for supporting Murcia Today
article_detail
.
Contact Murcia Today: Editorial 966 260 896 / Office 968 018 268