Jumilla wine route, Bodegas Luzón
Producing around 4 million bottles a year, Bodegas Luzón offers a range of award winning wines
Bodegas Luzón is one of the most established of the many wine producers in the municipality of Jumilla, in the north of the Region of Murcia, having celebrated its centenary in 2016, but at the same time it is one of those which has seen most expansion and modernization over the last few years, and part of this process has been the concerted efforts to make it an easy and attractive place to visit.
These efforts, it has to be said, have been a great success, and the result is that those visiting the facilities are welcomed into a large, warm, modern reception area and offered a tour which combines all of the professionalism of modern wine production with some of the fascinating details of the centuries-old traditions of wine-making in Jumilla.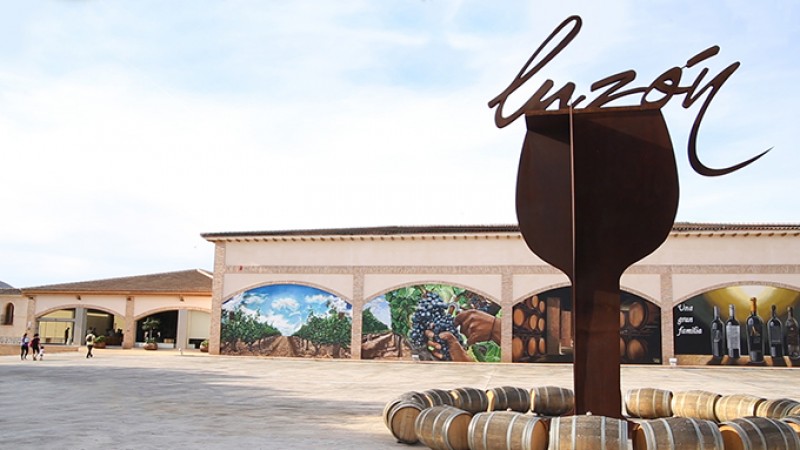 The past and present of Bodegas Luzón
Bodegas Luzón dates back to the year 1916, when the first partners formed a cooperative which was to grow substantially in subsequent decades, and continued to expand throughout the rest of the twentieth century.
The current winery as it exists today, though, began to take shape as recently as 2005, when Bodegas Luzón was taken over by Grupo Fuertes, the holding company which also includes the El Pozo meat production concern in Alhama de Murcia. Fuertes undertook an important investment program to refurbish and modernize the whole of the production facility, making it possible to achieve the high standards for which Luzón is now renowned.
With a total floor area of over 12,000 square metres, the redesigned headquarters retain many of the original features from a century ago but also include large areas of glass and wood, and this modern look using traditional materials reflects the company's mentality. The best of the past has been retained and combined with the improvements offered by innovative technology, with experienced winemakers and grape-growers working side by side with lab technicians and enologists to produce wines with strong, individual personalities.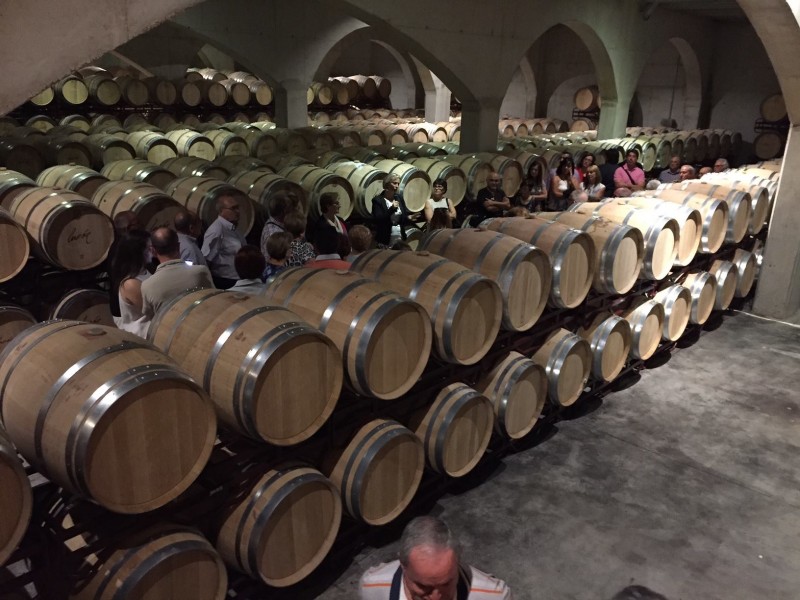 The vineyards
The grapes used by Bodegas Luzón come from a variety of locations within the Denomination of Origin of Jumilla.
In all there are approximately 500 hectares of vineyards, mainly at two plantations: one is at Castillo de Madax, at an altitude of some 600 metres above sea level, while the other is on somewhat lower ground at Finca La Solana, around 450 metres above sea level to the south-west of the winery. Although the Monastrell variety is the most dominant one, as is almost universally the case in Jumilla, other strains are also grown and are used in different combinations to produce the numerous labels marketed by Bodegas Luzón.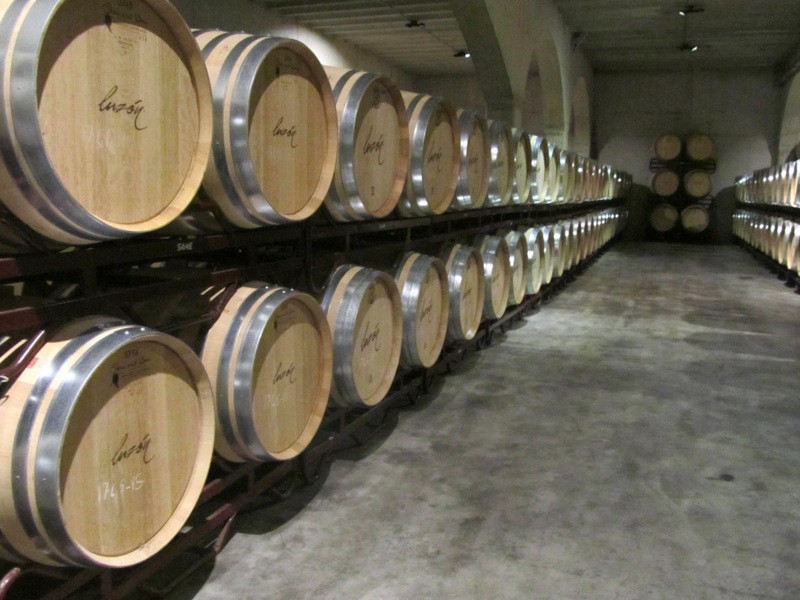 The wine production process
At Bodegas Luzón special importance is placed on the issues of traceability and temperature control, with all grapes being kept in refrigerated conditions after arrival and throughout the elaboration process. At a later stage, great care is also taken over the process of aging in oak barrels, and for some of the more exclusive products the traditional method of aging in the bottle is also used.
All of these aspects are amply covered during the guided tour of the premises, with plenty of opportunities to appreciate the scale of production at Luzón and the ways in which modern technology and tradition are used side by side.
At present Bodegas Luzón produces around 4 million bottles of wine every year, of which around 60% is exported. The most important export markets are those of the USA, Canada, Denmark, Germany, Switzerland, the UK, China and Japan.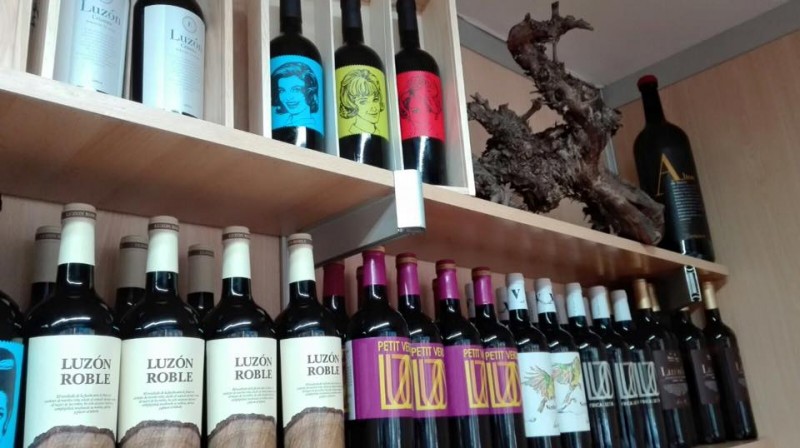 The wines of Bodegas Luzón
Alma de Luzón: 70% Monastrell, 20% Cabernet Sauvignon, 10% Syrah. Made using selected grapes from vineyards which have been owned by Bodegas Luzón for over 50 years, this is considered the "alma mater" product of Bodegas Luzón.
Altos de Luzón: 50% Monastrell, 25% Tempranillo, 25% Cabernet Sauvignon. Made from selected hand-picked grapes aged in French and American oak barrels, this is one of Bodegas Luzón's "star products", and has won many awards.
Portú: Monastrell and Cabernet Sauvignon. Produced from grapes harvested at 600 metres above sea level and subsequently aged for 22 months in oak barrels, this is another of the most prestigious products of the winery.
The three products above form Bodegas Luzón's "premium" range.
Luzón Colección Blanco (50% Macabeo y 50% Sauvignon Blanc): using grapes grown on trellised vines over 20 years old at altitudes of over 800 metres above sea level. Pairings include all kinds of shellfish, prawns dressed in garlic and parsley, grilled or oily fish with mild sauces, higher fat poultry dishes (duck, goose) and vegetables in tempura or sautéed with ham and cheese.
The ideal temperature for serving is between 4 and 6°C, and it is important to store it at a constant 16°C.
Luzón Colección Crianza (70% Monastrell, 30% Garnacha Tintorera): Aged for 12 months in French and American oak barrels, these deep red wine includes spicy notes, liquorice, black fruits such as blackcurrants and brambles, which combine with delicate tobacco notes. On the palate, this is a mature and elegant wine, and goes well with red meats, game, roasts, Iberian sausages, full-fat cheeses and a variety of stews.
The ideal temperature for drinking is between 14 and 16°C, and bottles should be stored at 16 degrees.
Luzón Colección Rosado: made using 100% Monastrell grapes, this rosé wine has notes of cherry and flowers and is a well blanaced accompaniment for salads, seafood, pasta and whilte meat. Also ideal with goat cheese, camembert and brie. Storage should be around 16 degrees, serving temperatura between 4 and 6ºC.
Luzón Colección Monastrell: another 100% Monastrell wine, this time red, which hints of cherry, strawberry and plum in the nose. Perfect with red meat dishes such as roast lamb and pasta with strong sauces.
Luzón Colección Garnacha Tintorera: an intensely deep, cherry red in colour, this is described as an "Expressive, intense and complex" wine on the nose with "aromas reminiscent of dark fruits (brambles, cherries), licorice and menthol". Suggested pairings include red meats, game, roasts, Iberian sausages, full-fat cheeses and a variety of stews.
Luzón Verde: an intense cherry red Monastrell wine, this product is certified as ecological by the Department of Agriculture in the regional government on Murcia.
Siete Grados: the name given to two sparkling wines with 7º alcohol content. The rosé wine is produced using Tempranillo, Bobal and Moscatel grapes, while the white equivalent uses the Alexandria Moscatel variety. This is a departure from "normal" wine production in Jumilla, featuring a suitably innovative design of bottle, and is proving to be a great commercial success.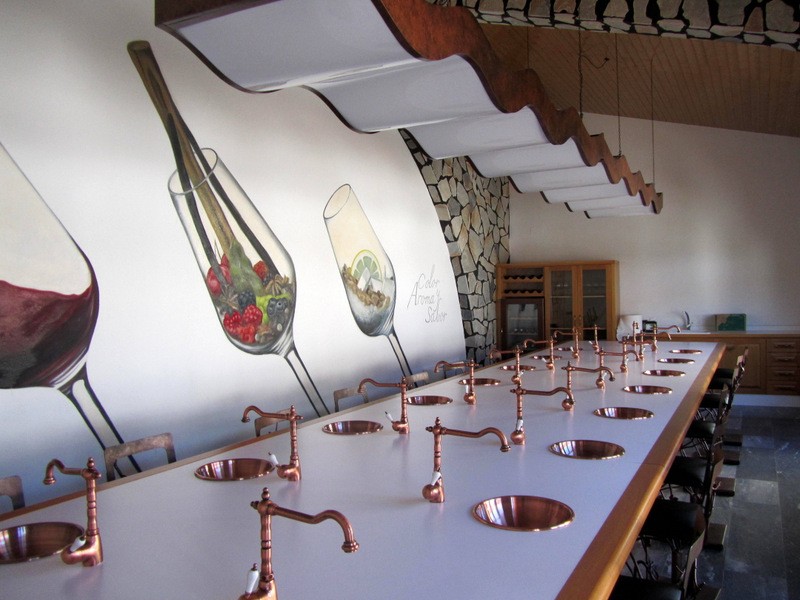 Guided tours of Bodegas Luzón
One of the aspects on which importance has been placed during the modernization of the winery is wine tourism, and every effort is made to provide an interesting, informative and enjoyable visit to Bodegas Luzón.
Visitors arrive in the beautifully designed reception area, which also houses the bodega shop and the professional wine-tasting room. Most visitors will not be using this area, but it's interesting to see where the experts pronounce judgement on the products!
All visits then move on through a charming old courtyard to the wine-sorting area, the vinification room and the storage tanks, but perhaps the highlight of the tour is the extensive underground area, in which as many as 2,400 aging barrels and racks can be seen in century-old cellars and the maze of corridors almost calls to mind a medieval dungeon! Here one of the most attractive areas is called "The Sanctuary", where selections of bottles from each vintage are kept and guarded.
The visit ends with a tasting of some of the wines of Bodegas Luzón, accompanied by El Pozo ham aperitifs, as well as a small gift as a memento of the tour.
The tours, which are offered in both Spanish and English and usually last approximately 90 minutes, are by appointment only. Visits can be arranged both on weekdays and occasionally at weekends, when a minimum group size of ten people has been established. It is recommended that reservations be made at least ten days before the intended visit date, and the price is 6€ per head.
Weekday visits (from Monday to Thursday) normally start at 11.00 and 16.30, while on Friday only the morning tour is laid on and at weekends timetables are flexible.
In addition to the standard tours, every autumn a series of "Vendimia abierta" days are held, at which special events are held to coincide with the grape-picking season. These include tasting events and talks as well as opportunities to actually take part in the harvest and tread the grapes in the traditional fashion. Most of these activities are offered only in Spanish.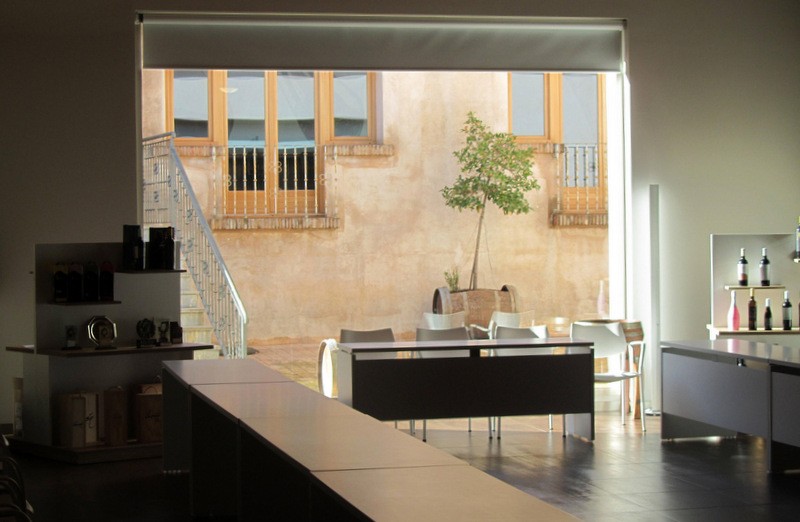 How to get to Bodegas Luzón
The winery is located alongside the C-3314 road (also known as the RM-714) which leads to Cieza, Calasparra and Caravaca de la Cruz, and is no more than a couple of kilometres from the built-up centre of Jumilla. It is clearly signposted at a small roundabout which provides direct access to the ample car parking area.
Address: Carretera Jumilla-Calasparra, km 3,1, 30520 Jumilla, Región de Murcia
Telephone: 968 784135
Email: tour@bodegasluzon.com
Office timetable: Monday to Thursday 8.00 to 13.30 and 15.00 to 18.00, Friday 8.00 to 14.00.
For more information about visiting Jumilla, including what's on, local news and all of the bodegas on the Jumilla wine route, visit the home page of Jumilla Today.
Contact Murcia Today: Editorial 966 260 896 / Office 968 018 268